These unprecedented times have transformed the essence of being. COVID-19 has given birth to a wide array of adaptation and adjustment modes, as humankind has had to cope with the "new normalness", such current condition that has undoubtedly surpassed barriers of time and space.
Hence, education has been one of the fields in which teachers, learners, parents and stakeholders have struggled to find ways to adapt, by processing, handling, and sustaining productivity, and tackling numerous tensions at the same time. The present article provides the readers with a twofold perspective concerning the defiences and opportunities that working and studying via online/remote conditions has brought with them.
Not only have individuals have suffered the need to manage their emotions while sheltering in confinement due to the quarantine measures, but they have also had to learn to "be" in an only place, attempting to remain focused and productive at work, household and/or learning tasks. In doing so, they have had to learn to manage the discontentment, anxiety and stress feelings produced by the fact of being in isolation and national lockdown. Managing the numerous responsibilities that include living alone, parenting, and/or family care giving has been a daunting mission for many, primarily because the usual routines people used to carry out have changed due to the quarantine. In addition to this, the way in which humans used to nurture social connections has altered its course, opening paths to increase interaction and socialization via online means, and posing challenges to consume and produce knowledge, packaged in countless doses of digital content.
Humans have moved along a continuum in which they have been exposed to news via TV, online media and/or online platforms (such as Facebook, Instagram, Twitter, or alike), without former preparation to select, search for and/or use content. This has at times, resulted in increased anxiety and stress disorders due to the overwhelming deluge of COVID-19 news, and disclosed several digital literacy challenges due to the lack of preparation to control and restrict the amount of input individuals have when they become active digital consumers. These challenges range from understanding how people access and use digital technology, to identify how comfortable they are when using it, taking into consideration additional barriers that emerge related to the digital divide gaps concerning internet and broadband access.
The uprising that COVID-19 pandemic brought in society shall be seen as an adaptive and transformative challenge that exposed the limitations that governments and institutions have in regards to what teaching and learning through digital sources mean. These modalities include facing two major trends: online education and emergency-remote teaching scenarios; the first being the overarching area from which the second derives. On the one hand, in online education, learning is asynchronous or synchronous, or a combination of both. Thus, online education is conceived as a format used in learning when learners do not necessarily need to be in "bricks-and-mortar classrooms" (Sun & Chen, 2016, p.159). On the other hand, emergency remote teaching (ERT, hereafter) has been recently defined as a temporary shift of instructional delivery to an alternate delivery mode due to the present crisis circumstances (Hodges, Moore, Lockee, Trust and Bond, 2020). ERT encompasses the use of fully remote teaching solutions for instruction or education that would otherwise be utilized and delivered either face-to-face or in blended scenarios, and that will return to such format once the crisis or emergency has stopped.
Adapting to new modes, strategies and actions to function under the aforementioned conditions set up by the pandemic has required fast solutions to offer online learning, which has not necessarily met the standards of quality. Schools and universities worldwide have struggled to design content from scratch, to develop materials and train educators and learners to access camera-ready resources while preparing for and/or endorsing new types of interactions among learners and instructors. This has undoubtedly meant a swiftly response to the needs of educational communities and contexts as the pandemic unfolds across the world.
In such design and implementation of adaptive reactions to the emerging challenges, several mistakes have occurred. At the school level, for example, there have been cases of institutions, which technically transferred in an exact way the six or seven-hour daily class schedule they had in normal face-to-face class delivery conditions to the online setting, leaving little room for break time between classes and imposing a non-stop content race, both for educators and learners. Other cases include planning vast amounts of mandatory work that children had to complete on a daily basis, and providing little preparation room for teachers before they faced the transition and the new emergency remote teaching situation. Consequently, the additional grading and extra communication with parents has exceeded teachers' capacities, reducing their productivity and imposing a heavy emotional burden, without mentioning the impact that social distancing has meant for teachers and children, reducing their playtime and physical interaction moments, especially of the latter. Along with that, many teachers had difficulties in accessing tutorials to use manage online platforms such as Google Classroom/Meet, Zoom, and/or Microsoft Teams, to name just a few of the resources they had to use. Similarly, parents experienced lack of clarity and direct instruction from educational institutions, putting a big responsibility on parents as they had to homeschool their kids and tackle the issues as they came up.
On a brighter panorama, there have been good and effective practices at the school-level. Some institutions have made insightful adaptations in their daily schedules, such as teaching only two blocks of classes per day, and aligning content-related classes on the same day, catering for an organized and personalized approach to learning. Other institutions have allowed for special plans for learner and teacher preparation time before running on the synchronous sessions online, and have established successful coaching and mentoring schemes among all educational community members.
At the higher education level, the defiances have included some of the previously mentioned areas, and others such as assessment. Hence, additional planning mechanisms have been required to ensure quality learning and efficient monitoring to guarantee fairness, legal certainty and trustworthiness in all educational procedures. Additional problems have included infrastructure limitations related to connectivity and access/use to devices, especially in conditions in which these have to be used by multiple siblings in the same family, for example. Finally yet importantly, handling with emotional regulation and efficient time management routines has been a challenge for many students who were not used to learn through online platforms, while managing effectively their academic skills and well-being habits during confinement. Despite the online literature has proven that online education has been found to be conducive to students who favor self-regulated learning (You & Kang, 2014, Kirtman, 2009), due to its self-guided nature, not everyone was prepared to face such defy.
In the case of language learning, copious have been the loads that learners and instructors have carried out. These have a dual nature that ranges from an overarching necessity to create digital content that suffices the needs of language learners, to the tackling of barriers that have emerged when managing large-classes online and catering effectively for their spoken and written interactions, to name just a few. These weights have a bittersweet flavor (metaphorically speaking), in so they have been both open doors and big hurdles. Language teachers have optimized and boosted their natural instinct to work with technologies, and plan for adaptive learning tasks and lessons, with their corresponding progress assessment plans. They have had to deal with the sequencing of content, and effective online instructional planning and development, grading massive amounts of writing tasks, and sustaining students' motivation and engagement through online platforms to create productive learning and teaching communities. All of this, also managing to stay sane, well-balanced, and healthy to keep up with their personal lives at the same time.
Yet it is time to learn from mistakes, and plan for a more promissory future that ensures welfare and resiliency traits, while individuals are equipped to tackle the burdens that the current modes of instruction, interaction, socialization and learning poses. It is urgent that institutions endorse balance plans among four basic domains, namely emotional, cognitive, social and physical development, areas that need to receive attention by all educational stakeholders, parents, and governmental agencies.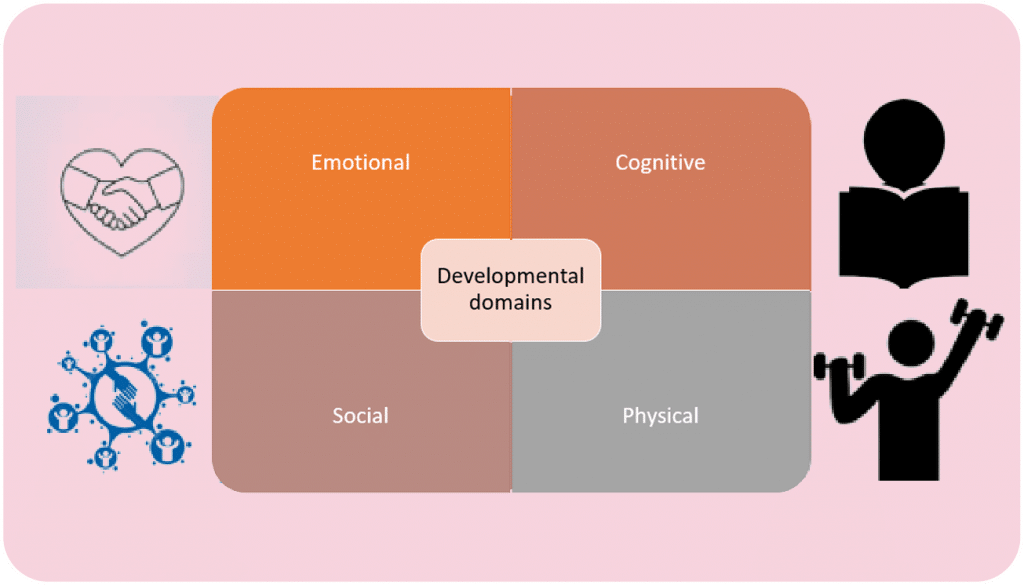 A summary of some of the key recommendations to address experiences occurring in such domains follows, taking into consideration ways to cope with the burdens that have been previously exposed across educational levels and among educational agents. These suggestions can be directed to students, teachers, parents, and/or stakeholders.
Emotional and physical
Acknowledge that it is a normal consequence of the present pandemic situation to feel stress, fear and anxiety. These are normal responses of your body to the uncertainty that reality poses.
Challenge yourself to control the negative thinking that is triggered by the massive amount of input channeled via social or mass media. Plan reducing the time you spend with digital devices and/or your TV. Try to check it once a day.
Select wisely trusted sources of information, such as local and/or global public health organizations.
Get enough sleep time. A minimum of seven or eight hours is desirable. Plan to incorporate healthy foods and have a balance of nutritious meals per day. Limiting caffeine and alcohol intake proves effective.
Exercise for a minimum of 30 minutes per day. Include activities like jogging (when possible), or select exercise routines that can be available via social media such as YouTube, Facebook or Instagram. A wide array of training plans has been freely accessible by athletes, private and public organizations to provide physical activity during the pandemic.
Examine which sources and practices sustain our energy and positive outlook to life to ensure personal comfort and wellness. Focus on your personal control before focusing on controlling others' actions. Make a list of those actions that bring you joy, humor and boost your energy. Make a list of those individuals that can be of help when in need.
Be in contact with your significant people who can be support sources and can listen to you without judgement. Build a strong circle of close family/friends that can offer support among themselves, and establish good communication routines per day/week. Listen to them. At times, this can give you a healing calmness while your loved ones benefit from the fact of being heard. Do not be frightened to unveil your vulnerability. You are a human being!
Getting some exposure to sunlight is necessary. If you can go out, do it taking all of the necessary precautions. If you cannot, stay close to a window that lets in sunlight.
Practice mindfulness and gratitude routines. Create a personal journal to document your actions. Set space to find spiritual balance and peace, depending on your creed and beliefs. If you need additional assistance, guidance to start with, you can use some of the available media sources such as apps, or podcasts found via YouTube or Spotify.
Limit the amount of time you spend on your work/learning activities. Distancing from devices and maintaining boundaries between office/study hours help your brain focus on a well-deserved rest.
Investing in engaging activities that are non-academically related is highly beneficial. Activities such as dancing, crafting, drawing, videogaming, playing Sudoku, playing an instrument, gardening and/or painting are some of them. Make sure to make some room to practice them.
Cognitive
Start establishing effective routines to study/work every day. Planning your day ahead increases your productivity levels. The usage of assistive technology and memory tools helps. Incorporate personal planners, diary management tools, and/or project management software helps to map out the day, while uplifting your memory capacity and planning skills.
Implement various methods to do homework and reading requirements to strengthen your active learning when being in your independent study times. If you are a teacher, plan on catering a plan that moderately incorporates students' productive homework. Think and plan accordingly focusing on the main objectives of the course, and the expected performance of your students based on target standards.
Assess the degree of difficulty of tasks. Start your follow-up and independent study pathway from the easiest, to the moderately difficult tasks. When in doubt or in need, consult your teacher. This requires instructors to efficiently plan the course scope and sequence, by breaking down the content of the asynchronous and synchronous modules/lessons, taking into consideration the cognitive load and attention span of learners living under the current conditions.
When having difficulties to concentrate on intellectual tasks because they demand higher cognitive investment, start by prioritizing your tasks, so that your list of things is reduced to the absolute essential ones. Schedule specific times to do your urgent endeavors, and take breaks every hour, when possible. If you are in class, either taking it or teaching it, incorporate mental pauses that help you debrief the input and focus on the pending matters. Make drink-water and stretching pauses among classes.
Investing in engaging activities that are non-academically related is highly beneficial.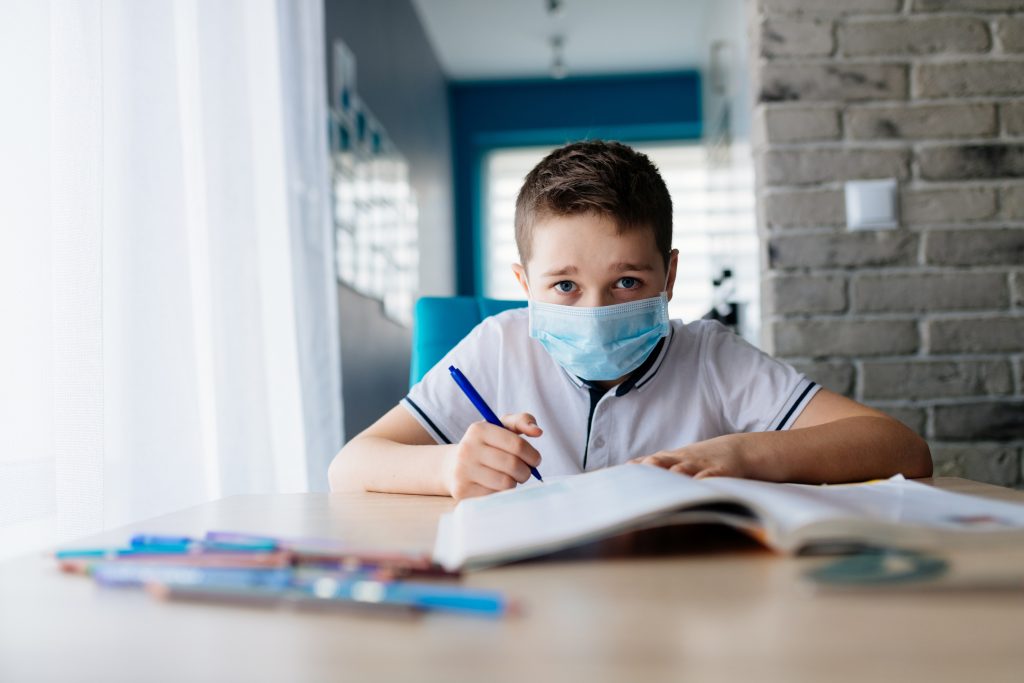 It is paramount to contemplate that as educators, we still have several missions to be transformative agents of change.
Social
Planning for new ways to connect and sustain relationships is key. Devote specific times a day/per week to build and strengthen family, colleagues and friends' bonds. If you are a teacher, devote class time to ask your students to share their insights and anxieties over the week. You can also create synchronous or asynchronous spaces and channels to hear and interact with your students. Examples of those are Virtual Coffee rooms, for Higher Ed students, or online "Thoughts Walls" for younger kids, using applications such as Listhings™, Pinup™, and Note.ly™.
Building empathy and appreciating diversity is pivotal these times. It is highly important to practice understanding and value others' perspective, even when these differ from ours. In teaching conditions, it is important to scaffold learners to realize the effect that these practices have in our communities.
Engaging in virtual games, birthday celebrations, luncheons, cooking and/or merely chat reunions release stress and tensions. Playing online games such as Monopoly, Skribbl.io, Scrabble or Uno (now available online), are some examples. Using some group apps such as Netflix Party might also add joy to your reunions.
Learn and/or practice something you have always wanted to do and have not had the time or conditions to do so. From cooking lessons, to learning new skills (language, journaling, photography, sports training, singing, etc.). These are good ways to keep you engaged and interested while sharing it precious times with your loved ones.
All things considered, it is paramount to contemplate that as educators, we still have several missions to be transformative agents of change, in contexts where our driving and emphatic force is mostly needed. As we move along the pandemic spread, we need to foster practices of well-being, self-care, intellectual, and social consciousness that will positively influence our family and educational communities, while easing the emergency immersion into online scenarios. This might result in having more engaged, healthy and focused learners, as well as teachers that do not only believe in the benefits of online learning, but also, work more efficaciously to enhance the quality of their instruction, by working hand-in-hand with their institutions to build safe, more equitable and prosperous learning and teaching scenarios. RM
References
Hodges, C., Moore, S., Lockee, B., Trust, T., and Bond, A. (2020). The difference between emergency remote teaching and online learning. Educause Review. Retrieved from https://er.educause.edu/articles/2020/3/the-difference-between-emergency-remote-teaching-and-online-learning
Kirtman, L. (2009). Online versus in-class courses: An examination of differences in learning outcomes. Issues in Teacher Education, 18(2), 103-116. Retrieved from http://search.proquest.com/docview/233320851?accountid=27700.
Sun, A., & Chen, X. (2016). Online education and its effective practice: A research review. Journal of Information Technology Education: Research, 15, 157-190. Retrieved from http://www.informingscience.org/Publications/3502
You, J. W., & Kang, M. (2014). The role of academic emotions in the relationship between perceived academic control and self-regulated learning in online learning. Computers & Education, 77, 125-133.